Marseille, France
The second largest city in France and the largest commercial port, Marseilles was once considered the gateway to the Mediterranean. Marseilles is cosmopolitan and vibrant, with its picturesque old port, medieval-village-style neighborhoods, downtown shopping and world renowned seafood. One can climb to 162 meters above sea level to visit the church of the patron saint of sailors, Notre Dame de La Garde. Or admire the cliffs that inspired Cezanne's "Estaque." Or visit nearby Treille to pay homage to the writer Marcel Pagnol. Marseilles' picturesque coastline beckons with beautiful beaches and opportunities for hiking, rock climbing, swimming and snorkeling.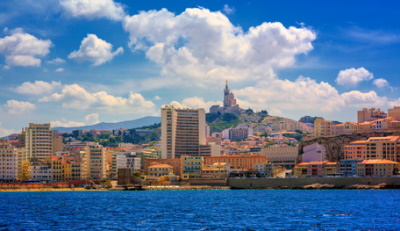 Language: French
Currency: Euro (EUR)
Driving Directions and Parking Information
23 place de la Joliette, 13226
Marseille, France
Exit junction 5 on the A55 (Gate 4 - La Calade - L'Estaque) for the Grand Port Maritime de Marseille. The information boards in the port after the GPMM control centre will tell you which quay your ship is on. Exit the A55 at junction 4 (La Joliette/Les Arnavaux/Arenc/Les Ports) for the Port de la Joliette (J4), at the foot of the Cathédrale de la Major. Port de la Joliette is on Quais de la Joliette (2nd arrondissement) in the Euroméditerranée area.
Marseille, France Weather
Jan
Feb
Mar
Apr
May
Jun
Jul
Aug
Sep
Oct
Nov
Dec
High
51
53
58
63
70
78
84
83
77
65
58
53
Low
37
38
42
47
54
61
66
65
60
52
44
38
Jan
Feb
Mar
Apr
May
Jun
Jul
Aug
Sep
Oct
Nov
Dec
High
11
12
14
17
21
26
29
28
25
18
14
12
Low
3
3
6
8
12
16
19
18
16
11
7
3
Jan
Feb
Mar
Apr
May
Jun
Jul
Aug
Sep
Oct
Nov
Dec
Inches
2
2
2
2
2
1
1
1
3
4
3
2
Centimeters
5
5
5
5
5
3
3
3
8
10
8
5
Jan
Feb
Mar
Apr
May
Jun
Jul
Aug
Sep
Oct
Nov
Dec
Percent
81
81
78
75
74
72
69
74
79
83
81
83